High Quality Shutters & Window Blinds In Talkeetna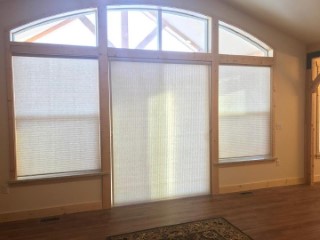 When you are looking for the premier name in Talkeetna shutter companies, there is only one name you need consider, and that name is Winter Windows. When smart consumers are looking for high quality window blinds and shutter options, they know to look for a reputable, well-established company with an impressive reputation for quality results and exceptional service. Our level of dedication in providing both to each and every one of our customers makes our team of shutter and window blind experts here at Winter Windows the obvious choice.
For over 30 years, we have been delivering our exceptional quality services and our hands-on expertise to each and every home we service. Founded in 1983, we are a veteran owned and operated blinds and shutters company that is completely committed to making sure we only deliver 100% customer satisfaction in every single job we perform. When you are looking for new blinds or shutters for your Talkeetna home, there is no reason for you to settle for less than the best.
High quality shutters are just one of the window treatment options we have available for our Talkeetna customers. They provide excellent insulation for your home, while also giving your home a timeless, elegant look, as well as exceptional light control capabilities. If you are unsure whether or not new shutters are the right choice for your home, give our team of experts a call today. We would be happy to answer any questions you may have about our services and help you find the absolute perfect window treatment solution for your home. We look forward to working with you.
Window Blind Company In Talkeetna
If you feel that high quality window blinds might be more what you are looking for in terms of window treatment options, we are here to help. New blinds can make a perfect addition to any residential or commercial building, and have a wide array of benefits, including:
Easy To Maintain & Repair- If you have a broken slat, or issues with your cords, they can be easily corrected. We even offer cleaning services for most blinds styles and types.
Wide Variety Of Options To Choose From- With a wide array of different materials, as well as a plethora of different colors, blinds are the perfect option if you are looking for customizable window treatment options.
Excellent Light Control- while blinds may not offer as much in the way of light control as shutters, they are definitely next in line. Between being able to adjust the slats or raise and lower them, you have complete control over how much light enters your home.
Talkeetna Drapery Experts
Drapes are all about appearance and dramatic effect, but they can offer a surprising benefit to your home's energy efficiency as well. When you are looking for an elegant way to enhance your interior spaces, new drapes might be just the option you've been looking for. We even have a wide array of all the drapery hardware that you will need to complete the new look you're going for.
If you are looking for a shutter company that specializes in shutters, shades, and blinds in the Talkeetna area, give us a call today at 907-376-1221 or fill out our online request form.