Polycore Shutters in Anchorage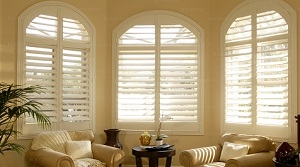 As a homeowner and consumer, you want to be certain that you are making a wise decision by opting for polycore shutters in Anchorage. Regardless of the type of window treatment that you choose, it is important to feel that you are making a wise investment. The choices that you make are going to leave you with window coverings that will be yours, for years to come.
Make smart choices by teaming up with Winter Windows to get the insight and information that you need, so that you can make informed decisions. With over three decades of professional expertise in this field, our Anchorage shutter company know what goes into delivering excellence. In this case, it starts with gaining a better comprehension of what makes polycore shutters different from traditional ones.
While standard shutters are usually crafted from natural wood, polycore is a man-made material. It is a synthetic material with a co-extruded aluminum core. These types of shutters also come with a baked on waterborne paint, making them resistant to moisture and fire retardant. To find out more, why not go ahead and schedule a free in-home consultation with us?
The Preferred Local Anchorage Polycore Shutter Specialists
Of course, what the average person really wants to know is what makes one type of window covering better than another. Some benefits of polycore shutters in Anchorage include:
The number one reason that people tend to prefer this type of shutter is the level of durability; there is nothing that surpasses the strength of polycore for shutters.
They provide a high insulating value against both heat and the cold. This means that you can expect lower monthly energy bills.
As previously mentioned, they are moisture resistant and fire retardant.
This is an ideal window treatment option for easy cleaning and maintenance.
Polycore shutters are better when it comes to energy efficiency. This will help make your home more green, or Eco-friendly.
The best way to find out all of the pros and cons of these shutters, or any of your options for window treatments in Anchorage, is to let Winter Windows provide you with the information that you need. This will help ensure that you get the data required to choose your selection with wisdom and confidence.
The Best Polycore Shutter Experts in Anchorage & Surrounding Areas
Our professional crew here at Winter Windows is ready, willing and beyond capable of providing you with service excellence. If you are considering polycore shutters, let us provide you with the information and options available. Our goal is to make sure that you have window treatments that will last long term, as well as be a choice you feel good about.
Photos of Our Shutters in Anchorage
If you would like an estimate for polycore shutters in Anchorage or the surrounding areas, please call 907-376-1221 or complete our online request form.
Latest Articles
3 Insulating Window Treatment Solutions For Anchorage Winters


If you're looking for new window treatments for your Anchorage home, don't forget about how cold it gets during the winter! Some window treatments offer extra insulation for your windows to help keep your Anchorage home more comfortable and improve its energy efficiency. Our Anchorage window blinds company helps local customers choose window treatments all […]

Read More
Reduce Energy Use and Cost with Plantation Shutters


When deciding what window covering suits the rooms in your home, you should consider the energy efficiency of each type to see how you can reduce your energy use. Windows account for up to 25% of your energy bill, but plantation shutters sold by your Anchorage shutter company can provide the energy savings you need […]

Read More