Woven Wood Shades in Anchorage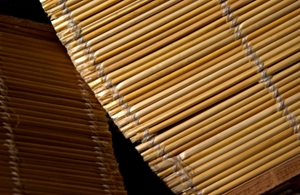 Woven wood shades are the ideal addition to any home. They allow in natural, soft, filtered light yet still provide you with the protection from glare and UV rays that you want. Not to mention, woven wood shades in Anchorage do so much for the look of both the interior and exterior of your home.
The smart thing to do is set up a consultation with our team of experts so that we can provide you with the information that you need. The only way to make a choice that you can live with, and love, for years to come, is to consult an industry expert. Since 1983, Winter Windows has been the name that local home and business owners turn to for a variety of window treatments, including woven wood shades.
Our Anchorage window blind company is veteran owned and operated and go above and beyond when dealing with our customers. Our goal is not to just meet your expectations, but to exceed them. The bottom line is that we care as much about the finished outcome of your new custom-made woven wood shades as you do.
The Preferred Local Woven Wood Shade Specialists
It can feel like a daunting task to try to narrow down your window covering options to just one. Of course, you don't have to settle for one uniform look in every room. Yet, if you are going to choose just one style, woven wood is the perfect choice for a number of reasons:
Including an element of nature into your home helps create a warm and welcoming atmosphere.
Woven wood shades in Anchorage are ideal for dressing up a casual space or balancing out an otherwise sophisticated one.
Using real wood in any detail of your home helps to increase the value. This makes your wood shades a smart investment, not an unnecessary expense.
There are plenty of reasons, but the most obvious one is the rich, natural beauty these window treatments offer. Don't just take our word for it, let us show you in person. During your free, in-home estimate we will show you all the beautiful options that you have available.
The Best Woven Wood Shade Experts in Anchorage & Surrounding Areas
The sooner that you call us, the quicker we can begin working on your custom-made woven wood shades. The good news is that we also offer cleaning and repairs for most brands, so we can provide you with quality follow up care.
Don't settle for less than the best, when it comes to your window coverings. Winter Windows is the top choice for superior results, and we look forward to having the opportunity to partner with you for your project.
If you would like an estimate for woven wood shades in Anchorage, please call Winter Windows at 907-376-1221 or complete our online request form.
Latest Articles
3 Insulating Window Treatment Solutions For Anchorage Winters


If you're looking for new window treatments for your Anchorage home, don't forget about how cold it gets during the winter! Some window treatments offer extra insulation for your windows to help keep your Anchorage home more comfortable and improve its energy efficiency. Our Anchorage window blinds company helps local customers choose window treatments all […]

Read More
Reduce Energy Use and Cost with Plantation Shutters


When deciding what window covering suits the rooms in your home, you should consider the energy efficiency of each type to see how you can reduce your energy use. Windows account for up to 25% of your energy bill, but plantation shutters sold by your Anchorage shutter company can provide the energy savings you need […]

Read More