Professional Window Treatment Cleaning in Anchorage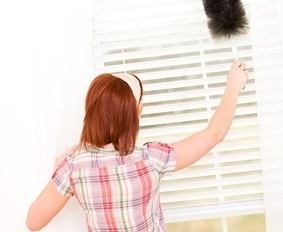 You invest a great deal of time, effort and finances into getting the perfect window treatments, so you will obviously want to take the best care of them possible. No matter how beautiful the design and craftsmanship for your window coverings, you are only doing them a disservice by not investing the work required for window treatment cleaning in Anchorage.
The good news is that this is yet another skilled task that we can perform for you. Too many so-called window treatment pros provide you with acceptable final results and then leave you stuck trying to expertly and meticulously clean them. Dust, dirt, dander and other unwanted debris can easily get trapped and build up over time.
Since Winter Windows already has a vast knowledge of how the industry works, our team also know the best approach to take for professional cleaning of blinds, and shades. Your window coverings can literally look as good as new again, once we get done with our cleaning service work. Get in touch with us today and schedule a proper cleaning, as soon as possible.
The Preferred Local Window Treatment Cleaning Specialists
Even if your window treatments don't appear that dirty, here are some reasons that you should stay on top of letting a professional clean them:
Many airborne contaminants are not visible to the naked eye. Just because you cannot see buildup of things that could pose a health threat, doesn't mean that they are not there.
Even if you have an air purification system in place, the materials collecting on your window coverings can still have a serious negative impact on the quality of the air in your home. This is the air that you and your loved ones breathe, so make it a point to make the quality the best.
This is an especially important task to tackle in any households with members who may suffer from allergies, asthma or other breathing related health conditions.
This is also a vital way to maintain the integrity of your window dressings and ensure longevity. Too many homeowners make the mistake of letting their window treatments in Anchorage get too filthy, then the only option is replacement. Cleaning is obviously much cheaper.
At Winter Windows we specialize in effective and affordable solutions for:
Whatever type of product you have dressing your windows, you can rest assure we are the local experts for window treatment cleaning in Anchorage. Contact our Anchorage shutter company today to get started.
The Best Window Treatment Cleaning Experts in Anchorage & Surrounding Areas
We would be happy to set up a schedule for window treatment cleaning for you in Anchorage or any of our surrounding service areas, and make it one less thing that you have to think about. Preserve the integrity of your investment and let us take care of cleaning and repairs. Winter Windows is the only name that you need to know for superior quality workmanship, in all your window covering related service needs.
If you would like an estimate for window treatment cleaning in Anchorage, please call 907-376-1221 or complete our online request form.
Latest Articles
3 Insulating Window Treatment Solutions For Anchorage Winters


If you're looking for new window treatments for your Anchorage home, don't forget about how cold it gets during the winter! Some window treatments offer extra insulation for your windows to help keep your Anchorage home more comfortable and improve its energy efficiency. Our Anchorage window blinds company helps local customers choose window treatments all […]

Read More
Reduce Energy Use and Cost with Plantation Shutters


When deciding what window covering suits the rooms in your home, you should consider the energy efficiency of each type to see how you can reduce your energy use. Windows account for up to 25% of your energy bill, but plantation shutters sold by your Anchorage shutter company can provide the energy savings you need […]

Read More