Woven Shades in Anchorage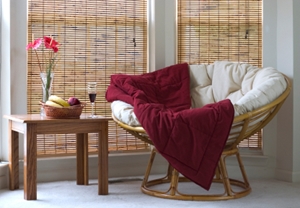 Woven shades, crafted from any type of material, offer a unique look and allows in the perfect amount of filtered sunlight. They not only supply a warm and natural look, they make a statement. Plus, woven shades in Anchorage come available in a wide variety of styles, colors and textures, making them one of the most versatile window treatments available.
The first step in making just the right choice about your window coverings is to find the right choice of industry experts to work with. For local home and business owners, that right choice is Winter Windows. With over three decades of industry-related expertise, our Anchorage window blind company has proven our dedication to going above and beyond to deliver the best results.
Your window coverings can do so much to enhance the look of your home, as well as improve the insulating capabilities of your windows. Take the time to review your options by letting us provide you with an at-home estimate. This gives us the opportunity to showcase the choices available to you and lets you view your selections in your own environment.
The Preferred Local Woven Shade Specialists
As the preferred local woven wood shade specialists, we like to make sure that our clients have a thorough understanding of this option, as well as other selections for window coverings. Some pertinent information includes:
Many people prefer woven shades because of the ability to still allow natural light into the interior of your home or business. However, it is important to understand that this may not provide you with the total darkness or privacy you want. In that case, it is easy to pair your shades with an additional layer of window treatments, such as curtains, to address those needs.
There are plenty of ways to customize your woven shades in Anchorage. Aside from material and colors, you also have choices to make about details like liners, valances and folds. This is why it is so important to get custom-made shades as opposed to buying mass-produced.
The soft, natural allure of woven shades cannot be surpassed. Create a unique, one of a kind look that will work well with the interior design aesthetics that you already have in place.
Most importantly, get the input and workmanship you deserve from the experts at Winter Windows to get the best results possible.
The Best Woven Shade Experts in Anchorage & Surrounding Areas
To find out more about woven shades and all the advantages they offer, let us provide you with the information that you need. At Winter Windows, your total satisfaction is our number one priority. So we offer the finest results for every project we take on.
If you would like an estimate for woven shades in Anchorage, please call Winter Windows at 907-376-1221 or complete our online request form.
Latest Articles
3 Insulating Window Treatment Solutions For Anchorage Winters


If you're looking for new window treatments for your Anchorage home, don't forget about how cold it gets during the winter! Some window treatments offer extra insulation for your windows to help keep your Anchorage home more comfortable and improve its energy efficiency. Our Anchorage window blinds company helps local customers choose window treatments all […]

Read More
Reduce Energy Use and Cost with Plantation Shutters


When deciding what window covering suits the rooms in your home, you should consider the energy efficiency of each type to see how you can reduce your energy use. Windows account for up to 25% of your energy bill, but plantation shutters sold by your Anchorage shutter company can provide the energy savings you need […]

Read More