Your Source for Quality Work with Upholstery in Anchorage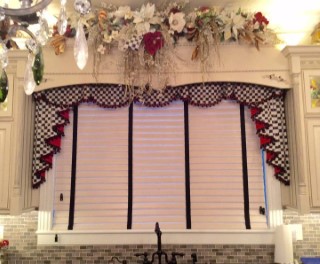 At Winter Windows, we believe in being a full service provider, which is why we also take care of upholstery services in Anchorage. From custom work to cleaning and repairs, we do it all. We already do exceptional custom-made window treatments in Anchorage, so why not entrust us for customization in upholstery services too?
Since 1983, our veteran owned and operated Anchorage shutter company has been dominating the field of local window coverings. However, we do more than just that and many of our services also include boats, motor-homes and campers. So if you are in need of any of these services, give our team of pros a call.
We believe in going above and beyond, when it comes to providing excellence in service for our clients. Your upholstered furnishings can last for years, if not decades, to come. It is all simply a matter of the level of quality of work that goes into your service needs.
Providing a Variety of Upholstery Services in Anchorage
There are so many benefits to opting for quality upholstery work, such as:
This gives you the ability to salvage something old and make it new. Whether it is a valued family heirloom or a piece you found that was trash that you would like to turn into treasure. Either way, what matters most is getting the quality work needed to get the best results.
Too many homeowners live with pieces that are in need of repair or cleaning, which ruins the value and compromises the integrity. With our quality services, you could restore and maintain pieces that you already own.
Have pieces that are simply looking a little outdated? The quality of older furniture craftsmanship cannot be beat however the look tends to become outdated. A quality re-upholstery job can breathe new life into old furnishings.
Many homeowners prefer going this route because it is also a much more eco-friendly approach. It requires approximately 100 times more carbon dioxide to create a new piece of furniture than to refinish an already existing item.
If you are considering upholstery work, cleaning, repairs or re-upholstery service, make sure you only choose a team that can provide excellence. Too many companies promise what they cannot deliver.
Local Anchorage Upholstery Experts
If you would like to find out more about the upholstery work we do, all you have to do is give us a call. We look forward to working with you and helping you gain a better understanding of all that we offer, as well as how it can benefit you. For all of your window treatments and related service needs, give Winter Windows a call.
If you are looking for a professional that does upholstery work in Anchorage, please call Winter Windows at 907-376-1221 or complete our online request form.
Latest Articles
Enhancing Style and Functionality: Exploring the Benefits of Sliding Panels for Windows


When it comes to window coverings, sliding panels are an excellent option that offers both style and functionality. These versatile window treatments provide a contemporary and sleek look while offering a range of practical advantages. In this blog post, we will delve into the benefits of sliding panels, focusing on their versatility in design, light control […]

Read More
3 Insulating Window Treatment Solutions For Anchorage Winters


If you're looking for new window treatments for your Anchorage home, don't forget about how cold it gets during the winter! Some window treatments offer extra insulation for your windows to help keep your Anchorage home more comfortable and improve its energy efficiency. Our Anchorage window blinds company helps local customers choose window treatments all […]

Read More