Bedspreads in Anchorage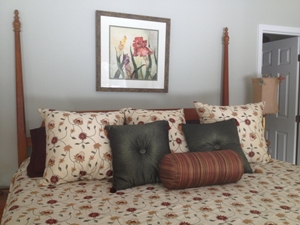 Why settle for bedspreads that do not match the curtains when we can provide you with both? At Winter Windows, one of our many areas of specialty happens to be custom-made work. While most people think of just window treatments, you will be glad to know that this also includes other fine linens such as bedspreads in Anchorage.
For over 30 years now, our Anchorage shutter company has been providing exceptional workmanship for our local residential and commercial clients. This is part of why we have the high rate of repeat and referral business that we do. Now, we look forward to working with you and helping you get the custom craftsmanship you deserve.
Since 1983, we have been the local leader for a variety of essential services, including work like custom bedspreads. We are the source for custom bedspreads and window treatments in Anchorage, and we'd be happy to take on your project. We even offer cleaning and repairs. From custom matching curtains with upholstery to sewing pillows and bedspreads, you can rely on our talented professionals for a variety of soft treatments. Give us a call today to find out more about all that we can get done for you.
The Preferred Local Bedspread Specialists
Some of the custom work we can do for you in our workroom includes:
Bedspreads – No bedroom set is complete without a quality bedspread. This piece literally becomes the focal point of your bed set, if not the room in general. Make sure that you get a quality piece, worthy of being a family heirloom, that is sure to be handed down for generations to come.
Draperies – Draperies add so much elegance and beauty to a room, as long as they quality is up to par. We can make sure that your curtains, drapes or other window coverings pair well with your bed set.
Valances – Whether for décor or to conceal a curtain rod, valances can add so much to a room. With window coverings, it is often about the details that help really create the look.
Pillows – Decorative throw and accent pillows are finishing touches for a completed bedroom look. There is no reason to settle for inferior quality just because something is an accent piece.
Pillow Shams – For your standard or larger sized pillows, let us provide you with quality pillow shams that will put the icing on the cake to complete your bed set.
Table Runners – No home décor is complete without quality table runners. Let us provide you with the beauty and quality you desire and deserve.
The Window Treatment & Bedspread Experts in Anchorage
At Winter Windows we do more than just quality window treatments in Anchorage. Our goal is to help you complete the look of your home. For bedspreads, or to find out more about all the services we offer, give our Anchorage shutter company a call right now.
If you would like an estimate for custom bedspreads in Anchorage, please call Winter Windows at 907-376-1221 or complete our online request form.
Latest Articles
Enhancing Style and Functionality: Exploring the Benefits of Sliding Panels for Windows


When it comes to window coverings, sliding panels are an excellent option that offers both style and functionality. These versatile window treatments provide a contemporary and sleek look while offering a range of practical advantages. In this blog post, we will delve into the benefits of sliding panels, focusing on their versatility in design, light control […]

Read More
3 Insulating Window Treatment Solutions For Anchorage Winters


If you're looking for new window treatments for your Anchorage home, don't forget about how cold it gets during the winter! Some window treatments offer extra insulation for your windows to help keep your Anchorage home more comfortable and improve its energy efficiency. Our Anchorage window blinds company helps local customers choose window treatments all […]

Read More