The Beauty of Mini Blinds in Anchorage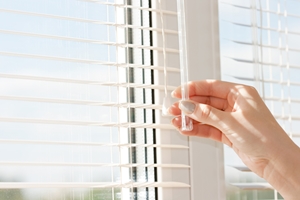 What defines mini blinds in Anchorage as being different than standard Venetian blinds? Generally, these types of horizontal blinds are about half the width of Venetian blinds. The narrower slats are how this product has earned its name.
Finding an expert to help answer questions like this is the key to having success with your choice of window coverings. Not all window treatment companies are created equal and, in fact, few offer the level of detailed service we do. Instead of just acting a window blind salesperson, pushing leftover overstock on you, at Winter Windows we distinguish ourselves with a unique approach.
We simply know the business, including design, window blinds installation and customer care. This is the best way to ensure that you get results that you can live with, and love, for years to come. Get in touch with us right now so we can help make sure that you don't make a mistake with your choice of window blinds in Anchorage.
The Preferred Local Mini Blinds Specialists
Aside from the slat sizes, there is not much difference between traditional Venetian blinds and mini blinds. Some things that you should know are:
The trick to getting what you want is working with experts who provide customization. Without custom-made blinds, you are settling for generic, one size fits all, cookie cutter window treatments.
Mini blinds are available in a wide variety of materials, and we can discuss your options when we meet with you during your in-house estimate. If you can get standard blinds made of that material, you can get mini blinds.
As you would expect, mini blinds are also operated with a cord and pulley system. Broken slats are replaceable and basically any type of repair you could make to Venetian blinds you could make to mini blinds.
These are an affordable alternative to standard size window blinds, but that is not usually the reason for opting for this type of window covering. Mini blinds are ideal for tighter spaces, like condos and apartments. This is also why they are often used for doors – not as much overhang to stick out and get in the way.
The Best Source for Mini Blind in Anchorage & Surrounding Areas
Deciding on which window treatment would be right for you is not actually the difficult part of the task. The challenge is finding a reputable and established local Anchorage window blind company to help you understand your options.
This is where Winter Windows comes into the picture. Let us provide you with the information that you need to make wise choices about your mini blinds and other options for window dressings.
If you would like an estimate for mini blinds in Anchorage, please call Winter Windows at 907-376-1221 or complete our online request form.
Latest Articles
3 Insulating Window Treatment Solutions For Anchorage Winters


If you're looking for new window treatments for your Anchorage home, don't forget about how cold it gets during the winter! Some window treatments offer extra insulation for your windows to help keep your Anchorage home more comfortable and improve its energy efficiency. Our Anchorage window blinds company helps local customers choose window treatments all […]

Read More
Reduce Energy Use and Cost with Plantation Shutters


When deciding what window covering suits the rooms in your home, you should consider the energy efficiency of each type to see how you can reduce your energy use. Windows account for up to 25% of your energy bill, but plantation shutters sold by your Anchorage shutter company can provide the energy savings you need […]

Read More