Custom Real Wood Blinds in Anchorage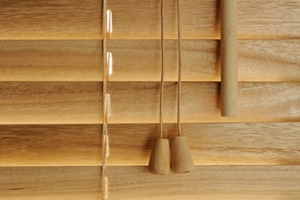 There are some people who will not settle for anything less than the look and superiority of real wood blinds in Anchorage. Aside from refined quality that simply cannot be replicated, wood blinds provide a natural, organic warmth and allure. This is the perfect window blinds to choose if you would prefer to move away from a look that is simply functional and utilitarian.
Using wood can either make your blinds a focal point of the room, or a warm and inviting backdrop. What matters the most is that you find the right specialists for this job, so you can get the best results possible. Too many homeowners make the mistake of working with a company that lacks the credentials, skills and genuine passion for this industry.
Anyone can simply sell you window blinds; Winter Windows performs a service that includes consulting, designing and customizing your wood blinds. There is no reason to settle for less than the best when it comes to the level of service and quality you get for your window treatments. Call on our Anchorage window blind company today and let's begin bringing your vision to life.
The Preferred Local Wood Blinds Specialists
The main advantages that wood blinds offer may seem obvious, but let's review some of them anyway:
Wood blinds are truly one of a kind. Since no two louvers can be the same, even if cut from the same piece of wood, it means no two blinds could be the same.
Real wood has the ability to increase the property value of your home. While adding any type of quality window covering helps, implementing any feature that is real wood makes an even bigger difference.
This is all about versatility. There is such a vast assortment of woods, stains and finishes to choose from, you are guaranteed to find a look that you will love.
The thickness of wood means that you have total privacy, when your blinds are closed. Some materials may let light through, which also means shadows and silhouettes, but not real wood.
The bottom line is that you simply cannot go wrong by choosing wood blinds in Anchorage. Let our team of pros help you get the quality customization you deserve.
The Best Selection of Real Wood Blinds in Anchorage & Surrounding Areas
There are a number of reasons WHY local residential and commercial clients prefer to call on us when they need window blinds in the Anchorage area. We are a veteran owned and operated business that has been providing locals with window treatments since 1983. Now, we look forward to working with you and ensuring that you get the level of quality work that you want for your wood blinds.
Photos of Our Wood Blinds in Anchorage
If you would like an estimate for real wood blinds in Anchorage, please call Winter Windows at 907-376-1221 or complete our online request form.
Latest Articles
Enhancing Style and Functionality: Exploring the Benefits of Sliding Panels for Windows


When it comes to window coverings, sliding panels are an excellent option that offers both style and functionality. These versatile window treatments provide a contemporary and sleek look while offering a range of practical advantages. In this blog post, we will delve into the benefits of sliding panels, focusing on their versatility in design, light control […]

Read More
3 Insulating Window Treatment Solutions For Anchorage Winters


If you're looking for new window treatments for your Anchorage home, don't forget about how cold it gets during the winter! Some window treatments offer extra insulation for your windows to help keep your Anchorage home more comfortable and improve its energy efficiency. Our Anchorage window blinds company helps local customers choose window treatments all […]

Read More