Faux Wood Blinds in Anchorage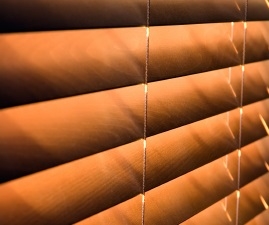 Some homeowners tend to get confused when it comes to selecting just the right window treatments, such as faux wood blinds in Anchorage. Constructed of vinyl or a blend of vinyl and wood, many savvy home or business owners are opting for this alternative to real wood. Before making a decision about this, or any of your window covering options, give the experts at Winter Windows a call.
Our Anchorage window blind company has been taking care of the service needs of local residential and commercial customers since 1983. Over the span of this 30 plus years, we have seen the industry change considerably. However, once thing remains the same and that is the need for superior customer care.
While some companies are more about pushing mass-produced overstock on clients, our goal is to provide excellence in service, design and customization. Your window blinds will be tailor-made for your windows, ensuring excellence and total satisfaction. Get in touch with us today to get started.
Affordable Faux Wood Blinds That Look as Good As the Real Thing
So what are some reasons that you may want to opt for faux wood blinds over the real deal, or any other window dressings for that matter?
As you probably guessed, imitation wood is more cost-effective than the real thing. While some die hard purists cannot be swayed from real wood, many others may love the look but not the price tag. Get an alternative that fits nicely into your budget.
Faux wood is resistant to moisture so that means you can use these blinds in places real wood would not suffice. Rooms that are damp or humid, like the bathroom or even the kitchen, are not suitable for real wood, which would become warped or damaged from prolonged exposure to moisture.
The good news is that you are not going to have to sacrifice much in the way of diversity when it comes to your options for faux wood. There are still plenty of wood choices, colors and finishes to select from with faux wood window blinds in Anchorage.
Faux wood is often more durable than the real thing, depending on the circumstances. If something does break, it is easier and cheaper to replace a louver for faux wood than real wood blinds.
The Preferred Local Source for Faux Wood Blinds in Anchorage & Surrounding Areas
Whether you know you want faux wood blinds in Anchorage or still need some assistance in your decision making, either way Winter Windows can help. We provide all of our clients with the same level of superior attention and care, starting with the free in-home estimate. Don't keep putting off until tomorrow what we could be taking care of for you today.
If you would like an estimate for faux wood blinds in Anchorage, please call Winter Windows at 907-376-1221 or complete our online request form.
Latest Articles
Enhancing Style and Functionality: Exploring the Benefits of Sliding Panels for Windows


When it comes to window coverings, sliding panels are an excellent option that offers both style and functionality. These versatile window treatments provide a contemporary and sleek look while offering a range of practical advantages. In this blog post, we will delve into the benefits of sliding panels, focusing on their versatility in design, light control […]

Read More
3 Insulating Window Treatment Solutions For Anchorage Winters


If you're looking for new window treatments for your Anchorage home, don't forget about how cold it gets during the winter! Some window treatments offer extra insulation for your windows to help keep your Anchorage home more comfortable and improve its energy efficiency. Our Anchorage window blinds company helps local customers choose window treatments all […]

Read More