Custom Drapes in Anchorage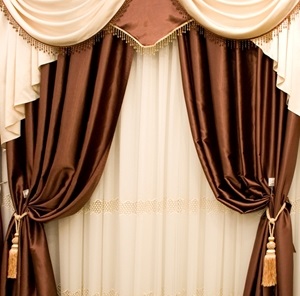 Any type of soft treatment for windows, like draperies, are about adding drama and beauty to your home. While curtains can be included in this, drapes in Anchorage are usually noticeably different due to the length. Curtains are usually neatly hemmed above floor length while drapes sweep or puddle the floor.
In order to find out more important details like this, as well as seek assistance for making important window covering choices, let Winter Windows take care of your service needs. With over three decades of expertise in the industry, we have proven our dedication to our clients as well as our vast knowledge of the field. You should be able to love the window treatments that you end up with, for years to come.
Our custom draperies in Anchorage offers a level of sophistication that no other window dressing can surpass. Plus, there are so many exciting options to choose from, creating a variety of looks and taking care of an assortment of needed functions. Let us provide you with the excellence in customized service you need to answer your questions and provide you with superior results.
The Preferred Local Drapery Specialists
Curtains and drapes range from one end of the spectrum to the other, literally from sheer to black out. Yet, what many homeowners want to know is if there are any benefits to draperies, other than enhancing the overall look. To which we reply, of course there are:
Drapes are an ideal way to help with temperature control and energy-efficiency. The heavier the material the more insulating capabilities you can expect but, either way, this is like adding a blanket to your windows. That means lower energy bills and a home that is more environmentally responsible.
This is also a great choice to use for layering window treatments. Many people like one covering but need added privacy or energy-efficiency. You can opt for parings like woven wood shades with heavier curtains on top.
This is also probably the most versatile window dressing out there. From neutral solids to bold and vibrant prints to even the texture of fabric you choose, there is a vast assortment of details that go into creating your customized drapes.
The Best Custom Drapes in Anchorage & Surrounding Areas
Don't settle for less than the best when it comes to the work that goes into your home or business, including details like window treatments. Here at Winter Windows, our Anchorage shutter company is proud to be considered the local leading service provider and that shows in all the work we do. If you would like to find out more about draperies, and other possible options, all you have to do is give us a call.
Photos of Our Custom Draperies in Anchorage
If you would like an estimate for custom drapes in Anchorage, please call Winter Windows at 907-376-1221 or complete our online request form.
Latest Articles
3 Insulating Window Treatment Solutions For Anchorage Winters


If you're looking for new window treatments for your Anchorage home, don't forget about how cold it gets during the winter! Some window treatments offer extra insulation for your windows to help keep your Anchorage home more comfortable and improve its energy efficiency. Our Anchorage window blinds company helps local customers choose window treatments all […]

Read More
Reduce Energy Use and Cost with Plantation Shutters


When deciding what window covering suits the rooms in your home, you should consider the energy efficiency of each type to see how you can reduce your energy use. Windows account for up to 25% of your energy bill, but plantation shutters sold by your Anchorage shutter company can provide the energy savings you need […]

Read More