Durable Vinyl Blinds in Anchorage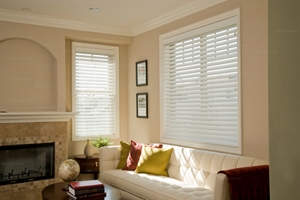 There are two main types of standard window blinds that locals in our area tend to focus on: aluminum and vinyl blinds in Anchorage. Many people prefer to stick with one of these two tried and true industry classics. Be it for your home, office or other type of commercial building, choosing just the right window treatment is important.
Consumers who know this, also know that the name to trust in for superior advice, workmanship and customer care is Winter Windows. We believe in going above and beyond, when it comes to doing what it takes to earn 100% customer satisfaction. There is no reason to settle for anything less than the best for your window treatment service and results.
Since 1983, we have been providing local residential and commercial customers with the finest in results, but it starts with getting the feedback that you need, from a local Anchorage window blind company. You cannot make wise and informed decisions, as a homeowner or a consumer, without getting the wisdom and information you need to do so. Let us provide you with that.
The Preferred Local Vinyl Blinds Specialists
Wondering what makes vinyl blinds one of the most popular types of window treatments available in the Anchorage area? Here are some of the benefits that you should know about:
Vinyl is unable to retain bend or dent marks, the way that aluminum does. While the slats can break, repairs and replacement for vinyl are affordable.
This type of window blind is easier to clean and maintain. Since aluminum can easily become dented while cleaning, this is a much easier task to perform.
Depending on the size of the blinds, vinyl is usually the more cost-effective alternative of the two. The price is considerably less than that of options like real wood blinds.
Vinyl is an ideal choice for either horizontal or vertical blinds. Plus, since they are resistant to heat and moisture, they can be used in spaces not appropriate for other materials. For instance, the bathroom is the ideal spot to use this type of material because it will not warp or become otherwise damaged by the heat or moisture.
If you are interested in getting an estimate for vinyl blinds in Anchorage or would like to schedule an appointment for a free in-home consultation, please call Winter Windows today.
The Source for Vinyl Blinds in Anchorage & Surrounding Areas
Want to find out more or ready to get started? Then all you have to do is get in touch with our team of industry experts. At Winter Windows, our top priority is providing you with high quality window treatments.
Whether you decide on vinyl blinds, or something else altogether, you can count on us to get the job done. Give us a call today to find out more. We look forward to being your window treatment service provider.
If you would like an estimate for vinyl blinds in Anchorage, please call Winter Windows at 907-376-1221 or complete our online request form.
Latest Articles
3 Insulating Window Treatment Solutions For Anchorage Winters


If you're looking for new window treatments for your Anchorage home, don't forget about how cold it gets during the winter! Some window treatments offer extra insulation for your windows to help keep your Anchorage home more comfortable and improve its energy efficiency. Our Anchorage window blinds company helps local customers choose window treatments all […]

Read More
Reduce Energy Use and Cost with Plantation Shutters


When deciding what window covering suits the rooms in your home, you should consider the energy efficiency of each type to see how you can reduce your energy use. Windows account for up to 25% of your energy bill, but plantation shutters sold by your Anchorage shutter company can provide the energy savings you need […]

Read More