Drapery Hardware in Anchorage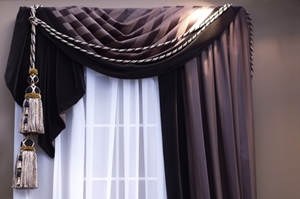 One of the reasons that drapes and curtains are so popular is because you get to make choices. One example of this is drapery hardware in Anchorage. The average homeowner may not be aware of how much of a difference this makes, but industry experts sure are.
There are a number of elements of drapery hardware that you need for your window treatments, each of them performs a function, adds to the appearance or both. So creating the ideal customized drapes are about so much more than just picking the fabric. The end result usually comes down to picking the perfect hardware.
One of our many areas of specialty here at Winter Windows just happens to be drapery hardware and creating custom draperies in Anchorage. We will work with you to help custom design the look you have always wanted. Get in touch with us right now and let us provide you with the information that you need to make the best choices possible.
The Preferred Local Drapery Hardware Specialists
To get a better idea of what exactly goes into the hardware you need for your drapers, here are some of the pieces that you may be picking out for your own window coverings.
Elbow Brackets – When a wall angles, you have two choices: start a new rod or implement elbow brackets. For a seamless look and the ability to move your curtains with ease, elbow brackets are the better choice.
Traversing Rod – This rod enables you to open and close your drapes with the pull of a single cord. If you do not like the appearance of your traversing rod, you can utilize a valance to conceal it.
Finial – This is a decorative piece used on the end of a curtain rod.
End Cap – If your rod butts up against a wall, a decorative finial is not an option and you will need an end cap.
Center Support – For extra long rods or extra weighty fabric, a center support assists. This additional piece helps prevent the rod from bowing.
This is just a sample of some of the terminology you may hear, when discussing your custom-made draperies. By working with reputable industry experts, you will get the information you need to better understand anything that pertains to you.
The Best Drapery Hardware Experts in Anchorage & Surrounding Areas
Since 1983, Winter Windows has been providing local home and business owners with the quality service, products and advice needed to make the most of every project we take on. Don't settle for inferior details when it comes to your drapery hardware. Let our Anchorage shutter company provide you with nothing short of excellence.
If you would like to learn more about our drapery hardware in Anchorage, please call Winter Windows at 907-376-1221 or complete our online request form.
Latest Articles
Enhancing Style and Functionality: Exploring the Benefits of Sliding Panels for Windows


When it comes to window coverings, sliding panels are an excellent option that offers both style and functionality. These versatile window treatments provide a contemporary and sleek look while offering a range of practical advantages. In this blog post, we will delve into the benefits of sliding panels, focusing on their versatility in design, light control […]

Read More
3 Insulating Window Treatment Solutions For Anchorage Winters


If you're looking for new window treatments for your Anchorage home, don't forget about how cold it gets during the winter! Some window treatments offer extra insulation for your windows to help keep your Anchorage home more comfortable and improve its energy efficiency. Our Anchorage window blinds company helps local customers choose window treatments all […]

Read More