Roller Shades in Anchorage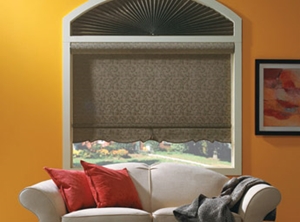 Roller shades are a timeless classic with the ability to offer both functionality and visual appeal to any room they are used in. This also makes them an ideal choice for both residential and commercial buildings. Plus, these days you have the additional option of motorization to make them even more user-friendly. It's no wonder why so many people are opting for roller shades in Anchorage!
What many people prefer about roll-up shades is the ability to create a crisp, clean and uncluttered look. It is simple, yet refined. This means that it can pair well with any interior design plan and usually makes a great choice for becoming an important backdrop.
However, there are more exciting alternative selections nowadays that enable you to make the roller shades become more of a focal point, like paintings hanging on a wall. Make the wise decision to partner with Winter Windows so that you can get the professional advice and workmanship that you need and deserve regarding any window treatment services you may need. We can help you comprehend your potential selections, make wise choices and then provide you with the quality window shade installation to complete the project.
Why Choose Roller Shades for Your Windows
More than likely you are familiar with roller shades in Anchorage, but you may not yet be aware of some of the benefits that they offer, such as:
Depending on the style of roller shade that you opt for, this determines the amount of light that comes through. This is a versatile selection because you can choose something that blocks out light completely, or a woven materials that lets diffused light through.
Roller shades are simple to use and adjust quickly. Plus, to make to even easier, you can always decide to go with motorization.
This is an ideal way to get privacy and also protect your interior flooring and furnishings from harsh UV rays. The rays from the sun can fade or completely damage features inside your home, unless you take measures to prevent that from happening.
They work together cohesively with any style of interior design aesthetics and also look stunning from the exterior. This is especially true with all of the choices in modern looks now available.
Let our Anchorage window blind company provide you with a complimentary custom at-home estimate so you can view your color and fabric options, in your own environment.
The Best Local Selection of Roller Shades in Anchorage & Surrounding Areas
If you are ready to get started, there is no time like the present. Winter Windows looks forward to having the chance to demonstrate the benefits and options you have for roller shades. Make sure that every detail of your house helps make it the home of your dreams, right down to the perfect window treatments.
If you would like an estimate for roller shades in Anchorage, please call Winter Windows at 907-376-1221 or complete our online request form.
Latest Articles
3 Insulating Window Treatment Solutions For Anchorage Winters


If you're looking for new window treatments for your Anchorage home, don't forget about how cold it gets during the winter! Some window treatments offer extra insulation for your windows to help keep your Anchorage home more comfortable and improve its energy efficiency. Our Anchorage window blinds company helps local customers choose window treatments all […]

Read More
Reduce Energy Use and Cost with Plantation Shutters


When deciding what window covering suits the rooms in your home, you should consider the energy efficiency of each type to see how you can reduce your energy use. Windows account for up to 25% of your energy bill, but plantation shutters sold by your Anchorage shutter company can provide the energy savings you need […]

Read More