Honeycomb / Cellular Shades in Anchorage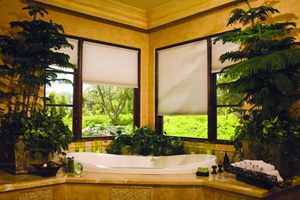 For many residential or commercial clients in the area, only honeycomb or cellular shades will do. Aside from having a soft and subtly sophisticated look, honeycomb/cellular shades in Anchorage are best known for their ability to offer an additional layer of insulation. In Alaska, that is always an important factor and appreciated benefit of any window covering.
What you should know, first and foremost, is about the importance of choosing the right experts to work with, for your window treatment service needs. Here at Winter Windows we have earned our flawless reputation by being able to help educate our clients about their options and then providing the best in quality design and installation.
The only way to end up with results that you can live with, and love, for years to come is to work with an established expert for your window treatment needs. The bottom line is that no one knows the local industry, or the field in general, like we do. Get in touch with us right now so that we can provide you with a free in-home estimate and show you our great selection of window shades.
Benefits of Honeycomb/Cellular Shades
If you are not yet familiar with honeycomb or cellular shades, you could probably recognize them by the name alone. From the side, when closed, this window treatment forms a single line of pockets that resemble a honeycomb. This is what creates the additional insulating features.
Some other benefits that you should be aware of regarding cellular shades in Anchorage include:
This is an ideal choice for anyone who would like to block out light while still allowing soft, filtered light through. You won't get total darkness with just this shade, but you will block out direct sunlight.
This makes it ideal for protecting the inside of your home from UV rays that tend to damage flooring and furnishings. Why pay to repair or replace sun damaged features of your house when you could just protect your home's interior.
This added layer of a barrier between your windows and the great outdoors can also act as a noise reducer. While it may offer only a slight improvement, sometimes that is all that you really need.
The best way to gain the insight that you need is to call on the team of experts here at our Anchorage window blind company to find out more. We have a great selection of shades available for all your window covering needs.
The Preferred Local Company for Honeycomb / Cellular Shades in Anchorage
If you are considering honeycomb or cellular shades for your home or business, get in touch with Winter Windows. We do more than sell window coverings, we are industry experts in design, consultation and installation. Don't settle for less than the best when it comes to your window treatments in the Anchorage area.
Photos of Our Cellular Shades in Anchorage
If you would like an estimate for cellular shades in Anchorage, please call Winter Windows at 907-376-1221 or complete our online request form.
Latest Articles
3 Insulating Window Treatment Solutions For Anchorage Winters


If you're looking for new window treatments for your Anchorage home, don't forget about how cold it gets during the winter! Some window treatments offer extra insulation for your windows to help keep your Anchorage home more comfortable and improve its energy efficiency. Our Anchorage window blinds company helps local customers choose window treatments all […]

Read More
Reduce Energy Use and Cost with Plantation Shutters


When deciding what window covering suits the rooms in your home, you should consider the energy efficiency of each type to see how you can reduce your energy use. Windows account for up to 25% of your energy bill, but plantation shutters sold by your Anchorage shutter company can provide the energy savings you need […]

Read More