Sliding Panel Curtains in Anchorage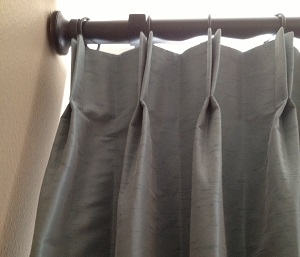 The exciting thing about installing sliding panels in Anchorage is that they can be used for more than just window coverings. As they increase in popularity, more homeowners are using them for closet doors, patios, room dividers and in other fun and creative ways. This is a unique approach to providing window coverage, especially for larger than standard windows.
They run from a panel track and slide into place, either open, closed or in between. They perform the same functions as traditional curtains or other window treatments; they block light, offer enhanced energy-efficiency and help your home look good, inside and out. However, sliding panels offer a sleek and unique look unobtainable via other alternatives for window treatments.
When you are searching for just the right window treatments in Anchorage, your search should begin with finding just the right industry expert. This is the best way to get the information that you need and the results that you deserve. Make the wise choice to call on Winter Windows to tackle your project for you. We are the local source for all types of draperies in Anchorage, including sliding panel curtains.
The Preferred Anchorage Sliding Panel Specialists
One look at our portfolio of previous work with sliding panels in Anchorage and it becomes clear why they make such a brilliant choice. However, if you still need some convincing, here are some other things to consider:
While generally not as dark as black out curtains, you do have some choices that can help you create a darker interior space. The most commonly used style allows diffused light into the interior of your home or business.
This is also an great alternative selection for providing privacy. However, keep in mind that the softer the material or color that you choose, the more likely you are to be able to see shadows or silhouettes on the interior.
Using neutral colors will help keep your sliding panels as more of a backdrop, however it is almost impossible for an element of your home that is this large to not become a focal point. The more vibrant the color or bolder the print, the more likely you are to bring attention to your panels. Don't be surprised if your furnishings or carefully selected art pieces don't get the spotlight if you have red zigzag striped sliding panels in the same room.
Your Local Source for Sliding Panel Curtains in Anchorage
Winter Windows is a veteran owned and operated Anchorage shutter company, so you know that we give 100% to all that we do. No matter what style of window covering you decide on, you will get excellence in products, design and installation. Let us review the benefits of and options for sliding panels that you have during your free, at-home estimate.
If you would like an estimate for sliding panel curtains in Anchorage, please call Winter Windows at 907-376-1221 or complete our online request form.
Latest Articles
3 Insulating Window Treatment Solutions For Anchorage Winters


If you're looking for new window treatments for your Anchorage home, don't forget about how cold it gets during the winter! Some window treatments offer extra insulation for your windows to help keep your Anchorage home more comfortable and improve its energy efficiency. Our Anchorage window blinds company helps local customers choose window treatments all […]

Read More
Reduce Energy Use and Cost with Plantation Shutters


When deciding what window covering suits the rooms in your home, you should consider the energy efficiency of each type to see how you can reduce your energy use. Windows account for up to 25% of your energy bill, but plantation shutters sold by your Anchorage shutter company can provide the energy savings you need […]

Read More