The Preferred Local Specialists for Aluminum Blinds in Anchorage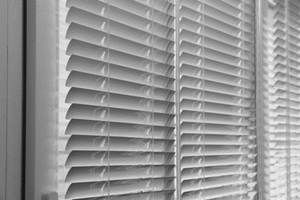 For your home or your business, aluminum blinds could work quite nicely. Priced slightly higher than traditional vinyl but considerably less than real wood, this is a cost-effective approach to getting quality window treatments. The exciting thing is the wide variety of colors and looks now available for aluminum blinds in Anchorage.
To make sense of the entire process, you need to call on Winter Windows to get the job done. We will provide you with the insight that is required to comprehend the various options that you have. Aluminum blinds are not for everyone, but how will you know that if you do not get educated on the subject.
We have spent the past 30 plus years working in this industry and have seen products change. Even though aluminum blinds are a classic, they have improved over the decades. From better quality and durability to a wider scope of color choices, let us show you the options available to you.
The Benefit of Aluminum Blinds in Anchorage
Probably the most important aspect of this project is making it a point to only work with respected experts who offer custom-made blinds. Otherwise, you are stuck with mass-produced, cookie cutter window blinds in Anchorage. Not to mention, it means not having a design and installation pro to work with, just a glorified window blind salesperson.
Wondering what some benefits of aluminum blinds are?
Quality window treatments provide you with exceptional energy efficiency. This is an important step in lower your utility bills and saving money. Additionally, this is a great way to make your home more eco-friendly.
If you do not like the use of cords, you can always opt for motorization. Some homeowners would rather not have the mess of pull cords, or the potential safety hazard they pose for children and pets.
From matte to metallic and from solid colors to patterns, you are going to be amazed at the wide assortment of looks you have to choose from. Whatever preconceived notion you may already have about aluminum blinds, let us set you straight.
Don't settle for something that you don't want just because you are not aware of the options available. We will provide you with all the information that you need, to make the best decision about your window blinds, during your free, in home estimate.
The Source for Aluminum Blinds in Anchorage & Surrounding Areas
As a veteran owned and operated Anchorage window blind company, we take great pride in all the work we do. This includes ensuring that we deliver the best in customer care. Give Winter Windows a call today to find out more about how you cold benefit from aluminum blinds.
If you would like an estimate for aluminum blinds in Anchorage, please call Winter Windows at 907-376-1221 or complete our online request form.
Latest Articles
Enhancing Style and Functionality: Exploring the Benefits of Sliding Panels for Windows


When it comes to window coverings, sliding panels are an excellent option that offers both style and functionality. These versatile window treatments provide a contemporary and sleek look while offering a range of practical advantages. In this blog post, we will delve into the benefits of sliding panels, focusing on their versatility in design, light control […]

Read More
3 Insulating Window Treatment Solutions For Anchorage Winters


If you're looking for new window treatments for your Anchorage home, don't forget about how cold it gets during the winter! Some window treatments offer extra insulation for your windows to help keep your Anchorage home more comfortable and improve its energy efficiency. Our Anchorage window blinds company helps local customers choose window treatments all […]

Read More