Valdez Shutters & Window Blinds Professionals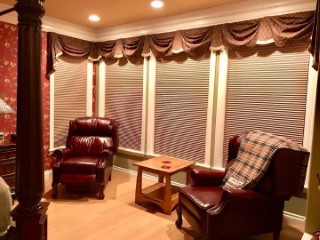 Making sure that you have the name of the best Valdez shutter company to perform your shutter and blind work is an important part of being a home or business owner. If you are looking for someone to take care of all of your window treatment service needs, you want to be sure you are getting the help of a seasoned industry expert. If you ask around, you will hear the same answer again and again when it comes to the best window and blind service in the Valdez area, home and business owners alike know to trust the window treatment professionals at Winter Windows.
We are a veteran owned and operated window blinds and shutters company that has been absolutely focused on providing high quality service for all of our local clients since 1983. One of the most important tasks that we perform for all of our clients is providing them with the essential information they need to make the best choices when it comes to the window treatment options of their homes and businesses. This includes everything from giving information on the different types of window treatment options we have available to providing recommendations on which option would be best suited to the particular goals you have in mind for your home or business.
If you have any questions about the services we provide, or you would like to schedule your appointment for service, contact our team of professionals today.
Window Blinds In Valdez
While shutters come in a wide variety of different styles from traditional, to plantation, and even polycore, they aren't always what every homeowner is looking for in terms of style and function. For many homeowners, blinds can be the perfect alternative to having brand new shutters installed. They also come in a wide variety of different types, colors, and styles for you to choose from. Some of these styles include:
Wood Blinds- These are classic in both style and beauty, coming in a wide variety of different wood types, stains, and finishes.
Faux Wood Blinds- With this particular type of blind, you can get the elegant look of real wood, without the price tag that comes along with it. They also require less maintenance than real wood.
Aluminum Blinds- Aluminum blind color and finish choices have expanded drastically in the past several years. Whether you are looking for metallic or matte, aluminum has the options.
Vinyl Blinds- These are the most cost effective option on the market and are a lot less likely to get dinged up than even aluminum. These are a favorite among home and business owners.
Shade Services In Valdez
If shutters or blinds aren't the option you're looking for, shades just might be. Shades will still give you wonderful light control options and come in a variety of different colors and styles to go with any interior design.
If you are looking for a Valdez shutter company that specializes in shutters, shades, and blinds, give us a call today at 907-376-1221 or fill out our online request form.