Reduce Energy Use and Cost with Plantation Shutters
---
---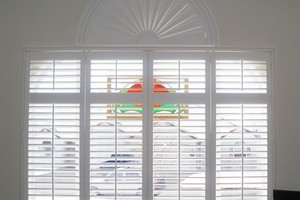 When deciding what window covering suits the rooms in your home, you should consider the energy efficiency of each type to see how you can reduce your energy use. Windows account for up to 25% of your energy bill, but plantation shutters sold by your Anchorage shutter company can provide the energy savings you need so you can stop throwing money out the window.
The energy efficiency of window coverings is measured by their thermal resistance or R-value. A high R-value signifies better thermal resistance. A shutter's R-value depends on its material composition, and plantation shutters can have an R-value up to 4.0 when installed properly by an experienced shutter company.
Your glass windows do not retain heat well, so uncovered windows can give the heat in your room direct access to the cool temperatures outside. Plantation shutters can retain heat, insulating your windows and preventing the loss of warmth in cold climates. Additionally, plantation shutters have the ability to decrease solar heat buildup and can adjust to provide ventilation in warm climates. By limiting the transfer of hot and cold through your windows, plantation shutters from your local shutter company reduce your need to crank up the heat or air conditioning, saving you a significant amount of cash.
Can I Just Hang Some Curtains?
Well, you can. You may need a thicker barrier from the elements, however. Plantation shutters made from natural wood offer your window a denser barricade than fabric does. Also, curtains can create condensation in cold climates as the air warms against the cold glass, presenting the perfect conditions for mold and mildew. Plantation shutters' slats prevent this problem by letting the airflow freely. In warm climates, plantation shutters allow you to open your windows while maintaining privacy.
Energy-Saving Benefits of Plantation Shutters
Moderate to high R-values
Heat retention
Window ventilation
Reduced heating and cooling system use
Limited window condensation
Decreased energy bills

The material and finish of your plantation shutters can be customized to your tastes and preferences, and the shutters are undoubtedly an excellent choice for the energy-conscious and thrifty consumer. Give your trusted Anchorage shutter company, Winter Windows, a call at 907-376-1221, and be on your way to energy efficiency and savings.
If you are looking for exceptional Plantation Shutters in Anchorage or the surrounding areas, please call Winter Windows at 907-376-1221 or complete our online request form.